We love going out to dinner and enjoying restaurant food but it can get super expensive! I started making Copy Cat Recipes at home so we could enjoy our favorite restaurant food for a fraction of the price.
I thought I would share 22 of our favorite Copy Cat Recipes. These are really easy to make and a great way to enjoy your favorite restaurant food at home.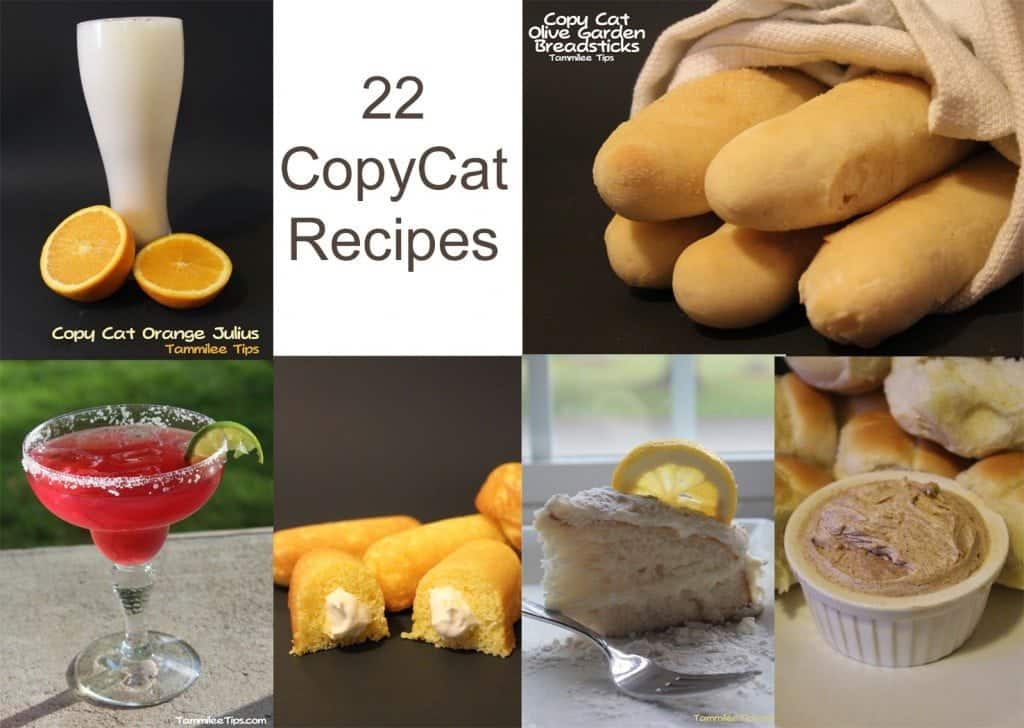 Appetizers
Copy Cat Olive Garden Breadsticks
Copy Cat Red Lobster Cheddar Bay Biscuits
Copy Cat Texas Roadhouse Butter
Desserts
Copy Cat Hostess Chocolate Cupcakes
Copy Cat Olive Garden Lemon Cream Cake
Drinks
Copy Cat Chevy's Sunburn Margarita 
Copy Cat Chili's Calypso Cooler
Copy Cat Chili's Jamaican Paradise
Copy Cat Chili's Twisted Lemonade
Copy Cat McDonalds Caramel Frappe 
Copy Cat Orange Julius Banana Julius
Copy Cat Orange Julius Strawberry Julius
Entrees
Copy Cat Bone Fish Grill Bang Bang Shrimp
Copy Cat Bucca Di Beppo Chicken Marsala
What restaurant recipes would you love to make at home?
Do you love recipes? Check out our copy cat recipes, dessert recipes, and our Crock Pot Recipes.