How to make Air Fryer Frozen Dumplings in minutes! This quick and easy air fried frozen dumpling recipe makes the perfect appetizer, snack, or meal.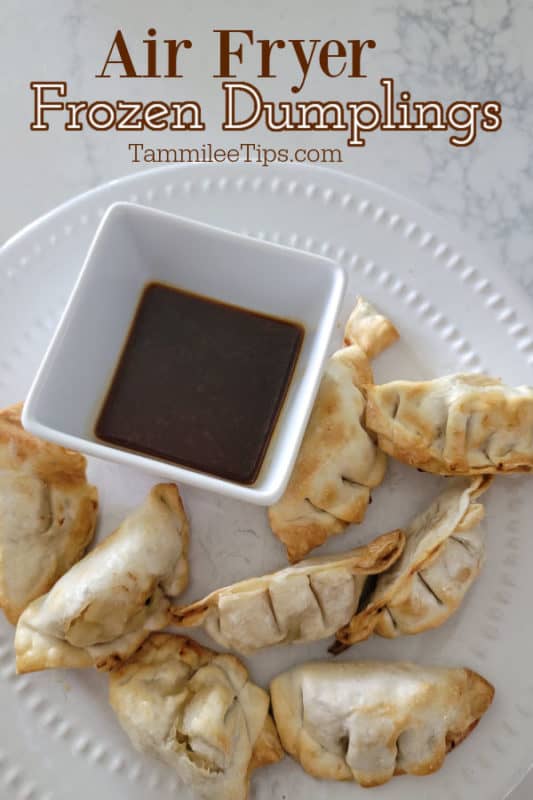 Air Fryer Frozen Dumplings
Can I confess I love cooking frozen foods in the air fryer. It is my cheater way of whipping out delicious appetizers, snacks, and sometimes dinner in minutes.
We try to keep a variety of frozen food options in our deep freezer for those days and nights we just don't feel like cooking from scratch. I make on average 100+ new recipes to share here on the website each year.
There are days that I can't even think about cooking something or doing the dishes. Enter in my new favorite small appliance the air fryer and I am so happy.
These air fryer pot stickers are one of my husbands favorite snacks/meals. They take less than 15 minutes to prepare and always taste amazing. I love that my husband is all in for cooking frozen dumplings and I can relax with a good book while he does it.
We are trying to share the cooking responsibilities each week this year with my husband taking at least 2 nights a week of dinners. He can make or order whatever sounds good to both of us. I set the goal this year of "sharing" some of the cooking responsibilities so I can enjoy a calm evening at home.
The past couple of years have been such a blur that I really want to be intentional with our time this year. Focusing on quick and easy recipes that taste amazing but don't take hours to prepare. Pretty much what we have been sharing for the past 10 years but more of a focus on how I am preparing them.
My goal is to continue posting at least one air fryer recipe a week plus a ton of other new recipes.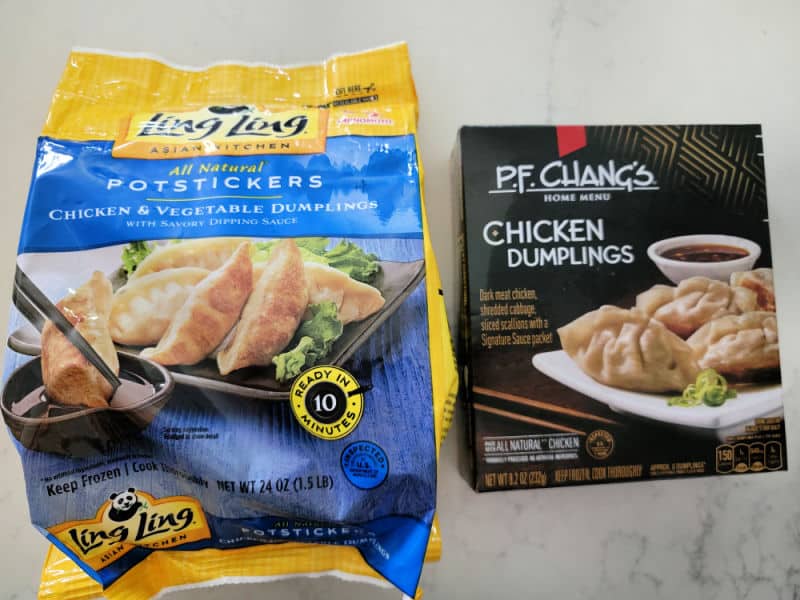 Ingredients
Frozen Dumplings
Avocado or Olive Oil Spray
Dipping sauce - soy sauce, plum sauce, sweet chili sauce, teriyaki sauce, gyoza sauce
Frozen Dumplings - You can use any brand of frozen dumplings, potstickers, or gyoza that you prefer. Just remember that each brand may cook a little differently in the air fryer so cook them by type.
Equipment Needed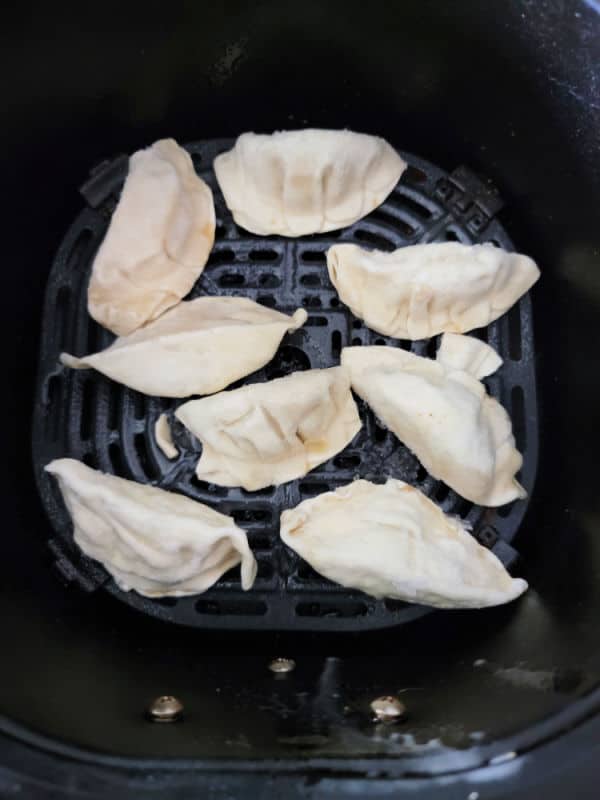 Recipe Tips
We do not preheat the air fryer for this recipe.
Make sure you cook the dumplings frozen! They do NOT need to be thawed.
Spread dumplings evenly in a single layer in the air fryer basket so the hot air can circulate.
Cooking time can change depending on the type of dumpling, brand, size or filling.
Make sure to evenly coat the dumplings with avocado or olive oil spray before air frying. This helps the wonton wrapper get crispy and not dry and hard.
Every air fryer cooks a little differently. When making your first batch of frozen potstickers, dumplings, and gyoza make sure to check on them frequently.
Make sure to set a timer to flip the dumplings half way through the cooking time.
If frozen food tends to stick to your air fryer basket you can brush it with olive oil or vegetable oil before air frying/cooking these frozen dumplings.
Vegetable dumplings make an easy air fryer vegetarian dinner recipe.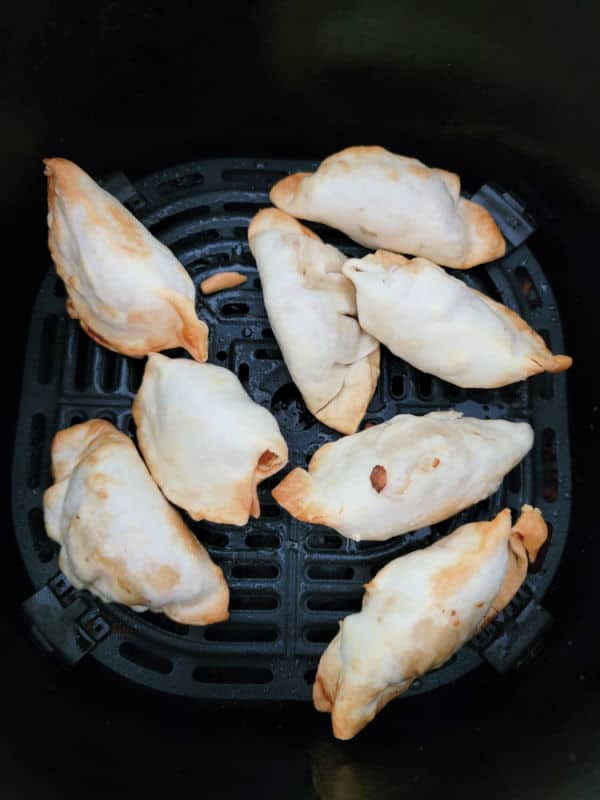 Great Air Fryer Appetizer Recipes
Air Fryer Frozen Chicken Patties
Air Fryer Frozen Popcorn Shrimp
Check out all of our air fryer recipes.
Do you love recipes? Check out our copy cat recipes, dessert recipes, and our Crock Pot Recipes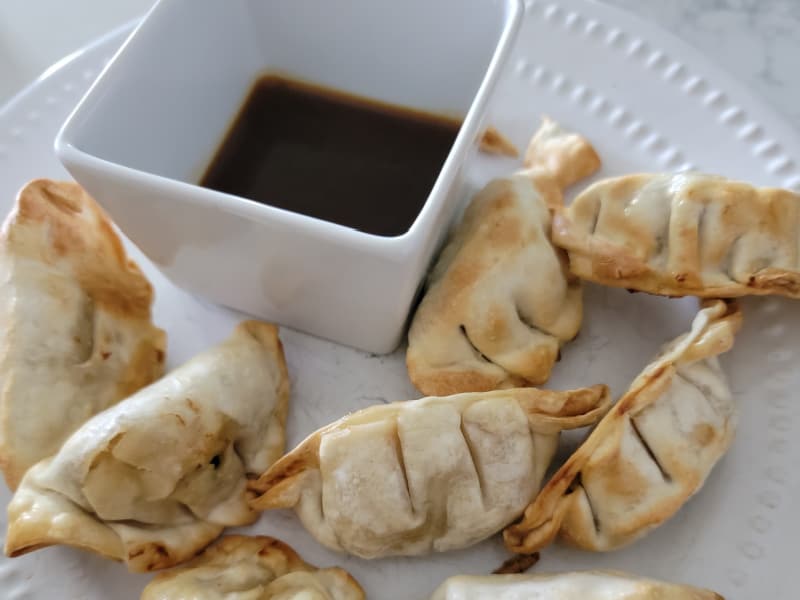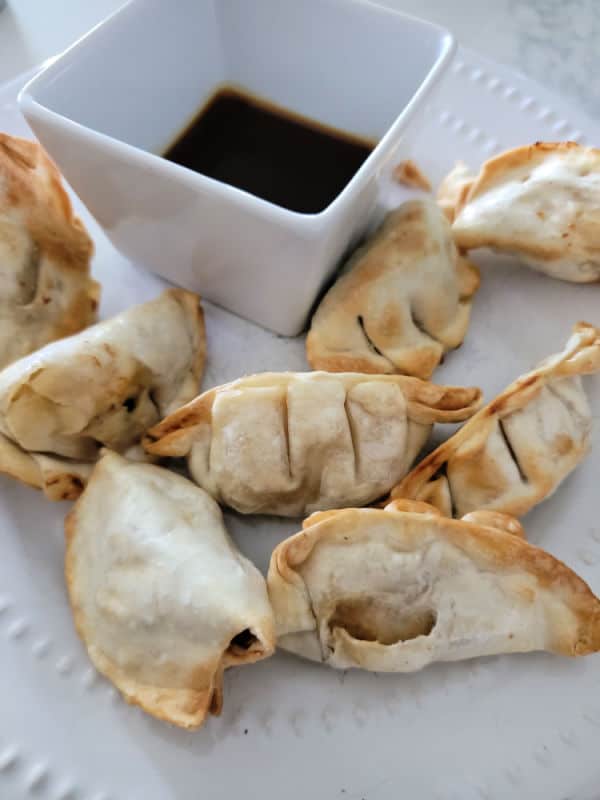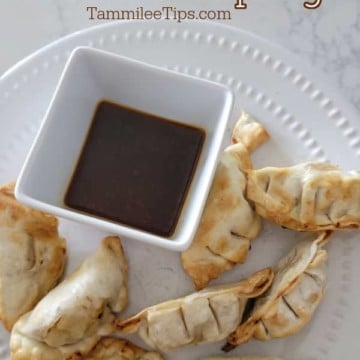 Air Fryer Frozen Dumplings
How to cook air fryer frozen dumplings, potstickers, and gyoza in less than 15 mintues.
Print
Rate
Instructions
Evenly spray frozen dumplings with olive oil spray so they are completely coated.

Air fry at 380 degrees for 7-8 minutes, flip over and continue air frying for another 2-5 minutes until they are done.
Nutrition
Nutrition Facts
Air Fryer Frozen Dumplings
Amount Per Serving
Calories 145
Calories from Fat 36
% Daily Value*
Fat 4g6%
Cholesterol 3mg1%
Sodium 279mg12%
Carbohydrates 24g8%
Protein 4g8%
Vitamin C 6mg7%
Calcium 21mg2%
Iron 1mg6%
* Percent Daily Values are based on a 2000 calorie diet.