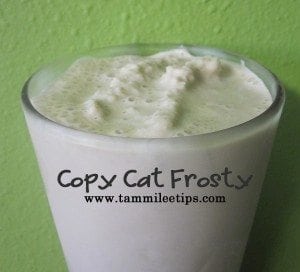 Copy Cat Frosty
Oh my! This recipe is really dangerous! I think this drink tastes better than a Frosty! I can not believe how good it is. I am so excited to be able to make these this summer.
Ingredients
2 cups vanilla ice cream
4 tsp Nesquik Chocolate Mix (we used powder)
1 cup milk
2 tbsp Cool Whip
1 tsp Vanilla
Direction
Blend everything in the blender until it is smooth and creamy
Enjoy!