Here's an easy Loaded Mashed Slow Cooker Cauliflower Recipe that takes minutes to prepare. It's the perfect holiday side dish!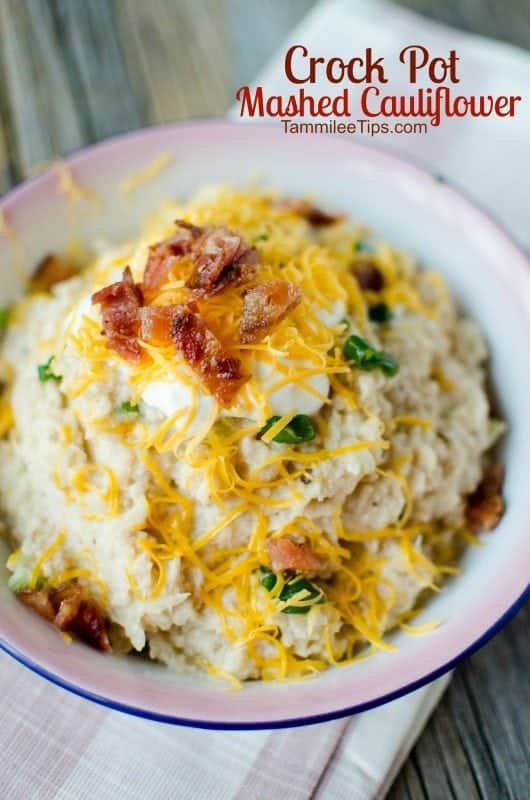 Crock Pot Mashed Cauliflower Recipe
We are gearing up for Thanksgiving and trying many new recipes to make holiday prep easier. Today's Loaded Slow Cooker CrockPot Mashed Cauliflower Recipe is the perfect side dish for any meal!
The slow cooker does almost all the work, and you get a delicious vegetable side your family will love. You can leave off the cheese if you are going for a healthier version.
This easy recipe for CrockPot Mashed Cauliflower is perfectly garlicky and cheesy.
You can leave the cheese off to make a healthier version. This slow-cooker comfort food is the perfect side dish for Thanksgiving, Christmas, or a family dinner.
One of my favorite ways to stress less for the holidays is to use as many Crockpots as possible. I love not having to set up timers for getting things in and out of the oven.
I talked to a friend who set up an Excel spreadsheet to track which dishes went into the oven at specific times. This level of data entry sounds like a complete nightmare to me.
I love making CrockPot Thanksgiving Recipes as much as possible. It makes life so much easier knowing everything is cooking without needing to hover over a stove.
I love this CrockPot Turkey Curry Recipe for leftover turkey! It is so good! You also can't go wrong with these cranberry turkey sliders for leftover turkey!
Do you have any side dishes you love making in the CrockPot?
It probably won't surprise you if you have read the blog a few times that I adore using my slow cooker for everything I can. I am also falling for my air fryer, but more on that later.
If you are looking for comfort food, check out these CrockPot soups! They are perfect for dinner when the weather is getting cooler and the leaves change.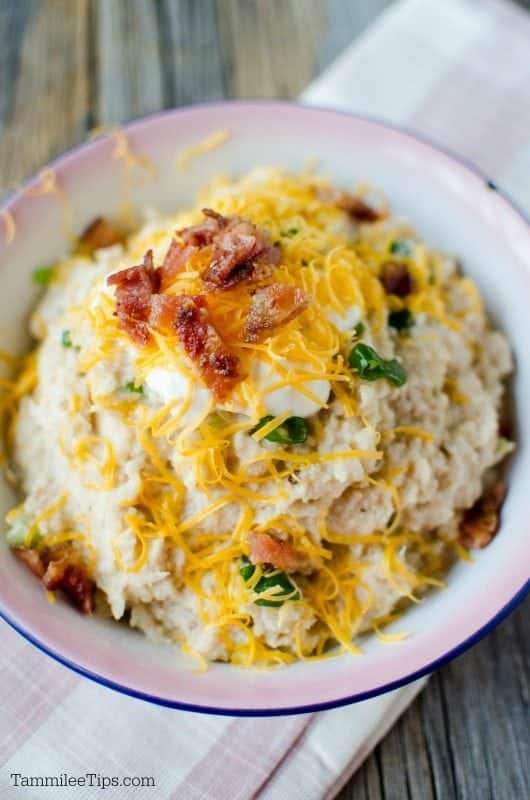 Ingredients
Here is a quick overview of the simple ingredients needed to make epic CrockPot Loaded Mashed Cauliflower! The printable recipe card at the bottom of the post includes specific measurements and step-by-step instructions.
Cauliflower

Garlic Cloves

Rosemary

Water

Cheddar Cheese / Sharp Cheddar Cheese

Bacon

Green Onion

Montreal Steak Spices, optional

Salt and Pepper
Equipment Needed
Teaspoon/Tablespoon/Measuring Tools

CrockPot

: We suggest using a CrockPot with a digital timer that automatically switches the temperature to warm after a set time to ensure your dinner cooks perfectly without stressing about cooking time.

Potato Masher or Hamburger Mix and Chop

Serving Dish 

Knife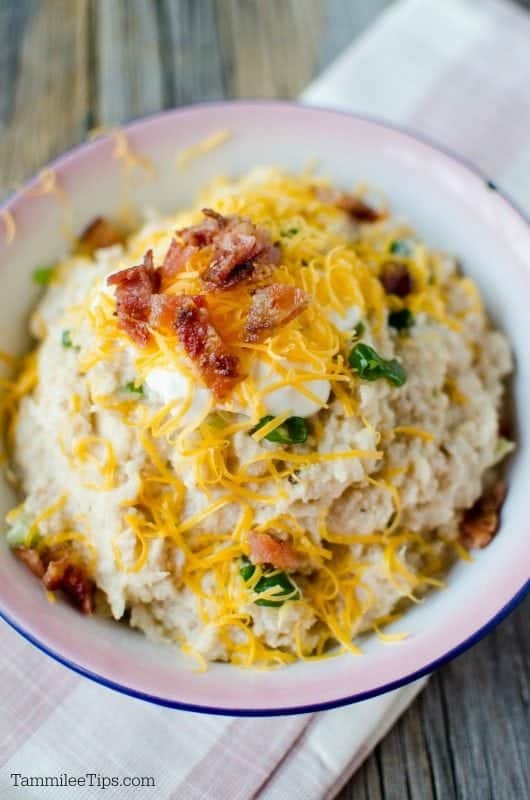 How to Make CrockPot Loaded Mashed Cauliflower
I've included complete instructions in the printable recipe card at the bottom of the post, but here's a quick version.
Place cauliflower florets into the slow cooker bowl.

Add the rosemary, garlic cloves, Montreal steak spice, and water.

Cook on low 

Drain any liquid/water off from the cauliflower and the slow cooker bowl

Add most of the sour cream, most of the bacon and cheese, and most of the chopped green onion. You want to reserve a small amount of each for garnish.

Mash the cauliflower until you get a very mashed consistency.

Garnish the cauliflower with shredded cheese, bacon bits, and sour cream.
Preparation and Storage
Make-Ahead + Storage: This mashed cauliflower recipe is make-ahead-friendly! This dish takes five to six hours to cook in your slower cooker, freeing you up to work on other menu items. Leftovers last about three days when refrigerated in an airtight container.
Freezing/How to Freeze: Freeze leftovers in an airtight, freezer-safe container or Ziploc bag and enjoy them within three months.
How to Reheat: Reheat leftover CrockPot Loaded Mashed Cauliflower portions using your microwave, stovetop, or CrockPot, depending on how many servings you need to prepare. You may need to add a splash of milk or cream to rehydrate it if it has dried out in the fridge. Let frozen leftovers thaw overnight in the refrigerator to ensure they reheat evenly.
Recipe Variations
Substitutions: We use shredded cheddar cheese in this recipe, but feel free to swap it for any other shredded cheese you prefer or omit it altogether for a lighter version. You can also use premade bacon bits or fry up slices of bacon and crumble them.
Optional flavors - curry powder, chives, cheese sauce. These depend on what flavor you would like for the loaded mashed cauliflower.
Vegetarian Option: Make this slow cooker recipe vegetarian by removing the bacon or replacing it with a meat-free alternative.
Vegan Option: In addition to the guidance for vegetarians, vegans can make this CrockPot Loaded Mashed Cauliflower plant-based with a dairy-free cheese alternative.
Gluten-Free: This recipe should be safe for a gluten-free diet, as none of the ingredients typically contain gluten. Check for a gluten-free label on each if you are highly sensitive.
Smaller Serving Size + Larger Group/More Servings: The written recipe makes eight servings. Scale it up or down to your desired yield, keeping in mind that you may need to work in batches if you scale up.
Make It Spicy: Add heat to this side dish with a spicy Montreal steak seasoning blend!
Sugar-Free: The written recipe contains 1 gram of sugar per serving.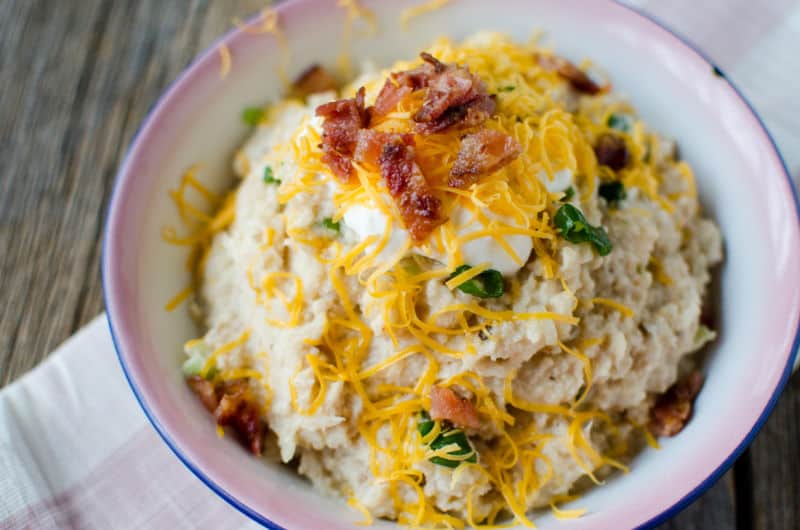 Fun Facts about Cauliflower
Cauliflower is a member of the Brassicaceae family, in common with the likes of cabbage, broccoli, and Brussels sprouts. It is grown and consumed around the world in a variety of different cultures and fashions.
Normally, only the white head is eaten but the leaves and stalk can be used as a nutritious ingredient in the preparation of such as vegetable stock, prior to being discarded.
Cauliflower is an extremely nutritious vegetable. It is high both in Vitamin C and natural dietary fiber, as well as those phytochemicals which combat the damaging free radicals in our bodies and help prevent them from attacking cellular structure and leading to the formation of tumors and certain types of cancers.
It is normal when we are eating cauliflower to cook it first - but have you ever tried it raw? It is absolutely delicious!
The next time you are breaking up a cauliflower head into florets for such as steaming or boiling, try eating a piece in this fashion. It is crunchy, tasty and extremely nutritious.
If we are cooking cauliflower, however, as most of us will, it is vital that we do not overcook it. Doing so - in common with most foodstuffs - leads to the majority of the nutrients being lost.
It also compromises the texture and flavor. This is probably the most common reason why children grow up refusing to eat the likes of cauliflower and broccoli.
Cauliflower is, of course, delicious served on its own as an accompaniment to the main meal but there are several excellent ways in which we can prepare it as one of the principal ingredients in a dish.
Even though cauliflower and broccoli are from the same family and very similar to one another, they are not often cooked or eaten together.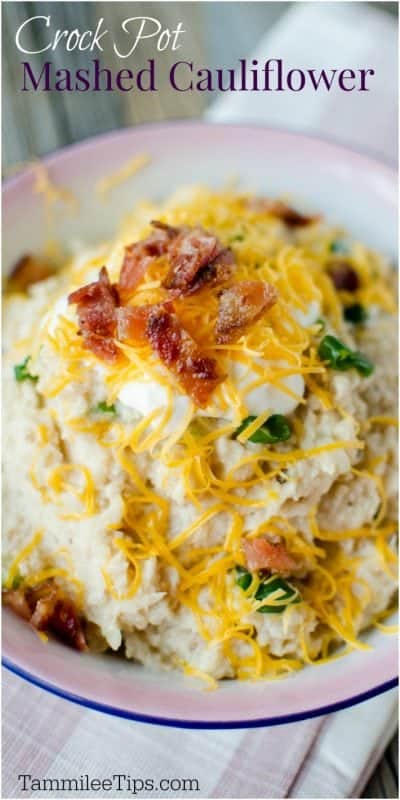 Tips for the Best CrockPot Loaded Mashed Cauliflower
You can control the consistency of this side dish by using different tools to mash it. Use a potato masher or hamburger mix and chop for a chunkier, more traditional texture, or use an immersion blender for a smoother consistency.
What to Serve with CrockPot Loaded Mashed Cauliflower
Our CrockPot Loaded Mashed Cauliflower is the perfect comfort food side dish when your household craves a homestyle, all-American meal but wants lighter, more veggie-fueled fare. It also serves as a healthier alternative to mashed potatoes for the holidays! Here are some menu planning suggestions.
Sides: Broccoli Casserole, Apple Stuffing, Funeral Potatoes, BLT Pasta Salad, Southern Fried Cabbage with Bacon, Air Fryer Baked Potato, Jiffy Cornbread with Sour Cream, Sweet Potato Casserole with Candied Yams, Southern Style Green Beans, CrockPot Bourbon Baked Beans
Main Dishes: Cracker Barrel Broccoli Cheddar Chicken, Stovetop Meatloaf, Chicken Casserole with Ritz Crackers, CrockPot Rosemary Pork, Cracker Barrel Chicken & Dumplings, CrockPot Macaroni & Cheese with Ham, CrockPot Salisbury Steak, CrockPot Ham & Cheese Grits
Desserts: Ooey-Gooey Butter Cake, Lemon Bars, Lemon Icebox Pie, Best Rice Krispie Treats, Bisquick Blueberry Cobbler, Magnolia Bakery Banana Pudding, Bisquick Apple Cobbler, Bisquick Peach Cobbler, Molasses Cookies, Banana Bread, Classic Chocolate Brownies
Drinks: Coke Slushie, Red Robin Freckled Lemonade, CopyCat McDonald's Sweet Tea
When to Serve
Lunch

Dinner

Potlucks

Family and Friend Gatherings
Great Recipe Collections
Vegetarian Crockpot Recipes - Easy vegetarian slow cooker recipes including appetizers, main dishes, desserts and more
Dump Cake Recipes - Easy dump cakes that take as little as 3 ingredients to bake!
Crockpot Soup Recipes - Tons of epic easy to make soups that are the perfect comfort food.
Cream Cheese Recipes - Epic ways to use cream cheese from appetizers to desserts.
Vegetarian Air Fryer Recipes - Easy vegetarian air fryer recipes including entrees and appetizers.
Here are some epic side dishes for ham and great side dishes for chicken!
Do you love recipes? Check out our copycat recipes, dessert recipes, and our CrockPot Recipes.
Follow Tammilee Tips on MSN, Facebook, Instagram, and Pinterest for all our recipe posts.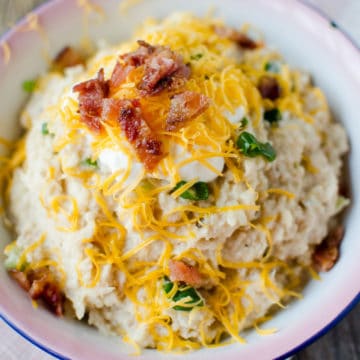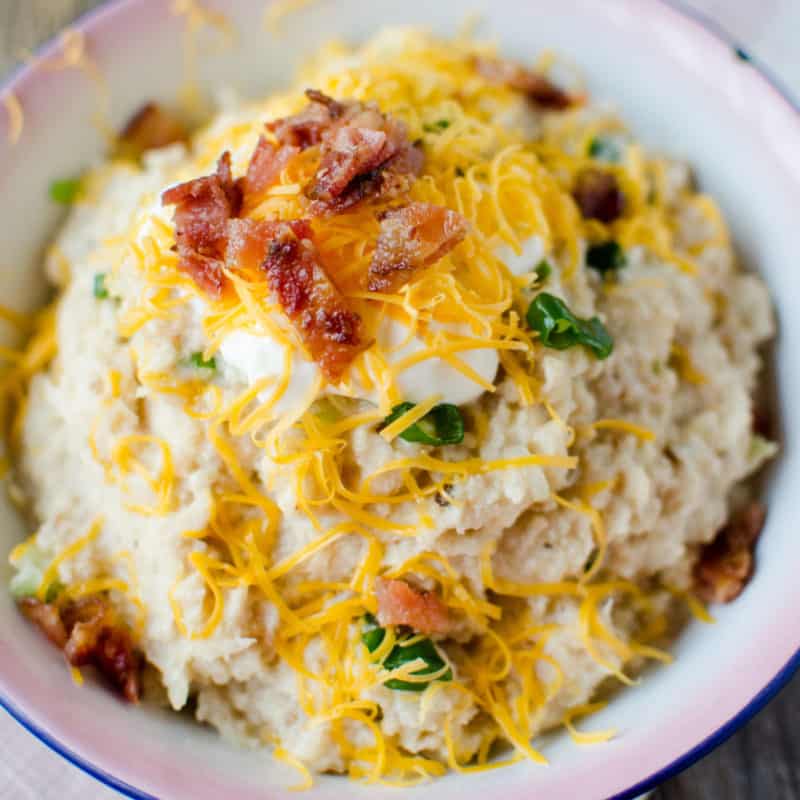 Loaded Slow Cooker Crock Pot Mashed Cauliflower Recipe
Delicious Loaded Slow Cooker Crock Pot Mashed Cauliflower Recipe
Print
Rate
Ingredients
1

head

Cauliflower

leaves stripped and cut into medium/small florets

3

Teaspoon

garlic cloves

minced

2

Teaspoon

rosemary

1

C

Water

½

C

Sour Cream

½

C

cheddar cheese

shredded

3

Bacon

1

green onion

large, chopped

1

Teaspoon

Montreal steak spice

optional
Instructions
Place cauliflower florets into the slow cooker bowl.

Add the rosemary, garlic cloves, montreal steak spice and water.

Cook on low for 5 -6 hours or until the cauliflower is VERY soft.

Drain any liquid/water off from the cauliflower and the slow cooker bowl

Add the most of the sour cream, most of the bacon and cheese, and most of the chopped green onion. You want to reserve a small amount of each for garnish.

Mash the cauliflower until you get a very mashed consistency.

Garnish the cauliflower with shredded cheese, bacon bits and sour cream.
Nutrition
Nutrition Facts
Loaded Slow Cooker Crock Pot Mashed Cauliflower Recipe
Amount Per Serving
Calories 112
Calories from Fat 72
% Daily Value*
Fat 8g12%
Cholesterol 20mg7%
Sodium 133mg6%
Potassium 258mg7%
Carbohydrates 4g1%
Protein 4g8%
Vitamin A 185IU4%
Vitamin C 35.6mg43%
Calcium 90mg9%
Iron 0.5mg3%
* Percent Daily Values are based on a 2000 calorie diet.
Recipe originally shared on October 6, 2016. Updated October 2020