Easy Carrot Ginger Soup Recipe that is packed with flavor. This Carrot Ginger Vegan Soup is from Erna's Elderberry House in Oakhurst California.  You only need six ingredients to make this delicious, flavorful soup.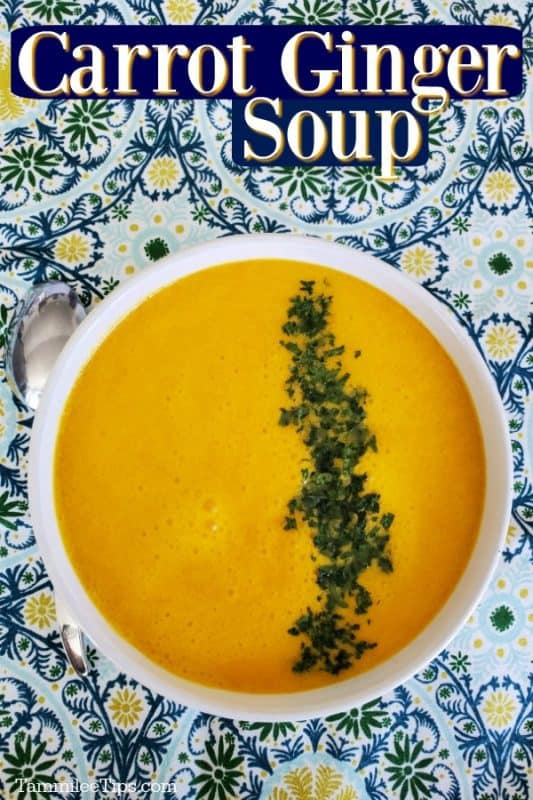 Carrot Ginger Soup Recipe
I am so dang excited to share this Carrot and Ginger Soup today! Chef Rob Snyder from Elderberry House shared this recipe on Facebook and I HAD to make it. We enjoyed an amazing 7-course meal at Erna's Elderberry House during our stay at the Chateau du Sureau.
It was one of those meals that you dream of afterward. Every course was better than the one before.

We also had the opportunity to enjoy a morning cooking class with their pastry chef and I can't wait to go back for more cooking classes. I have loved everything we have tried from both the restaurant and the chateau.
When I saw Chef Rob share this Carrot Ginger Soup with Coconut Milk I instantly started making sure we had all the ingredients we would need to make it.
Since we sadly can't hop on a plane like we were supposed to this month to visit Oakhurst and Yosemite I am instead making new recipes inspired by our travels to Visit Yosemite Madera.
The past year or two we have been partnering with Visit Yosemite Madera to share why this area is absolutely amazing.
Through our visits, we have fallen IN LOVE with the area and consider it almost a 2nd home. This year we haven't been able to make it down quite as often as we would like with all the things happening in the world.
Until we can find a way to the Southern Gateway to Yosemite I will be creating recipes that are inspired by one of our favorite places.
I love healthy soup recipes that can be made on the stovetop.
Ingredients
Yellow Onion
Fresh Carrots
Fresh Ginger
Water
Salt and pepper
Toppings/Garnish
Tabasco
Worcestershire Sauce (check to make sure vegan/vegetarian)
Cilantro
Optional flavors - cumin, coriander, additional fresh herbs, garlic cloves, cream, olive oil
Equipment Needed
Large pot/ Dutch Oven
Blender - We are big fans of the Ninja Blender. An immersion blender can also be used.
How to make Carrot Ginger Soup
Step 1 - Prep all of the ingredients, and gather supplies.
Step 2 - Add vegetables step by step into the Dutch oven. Add in coconut milk and water, simmer over medium heat.
The carrots should be tender to make this epic carrot soup recipe.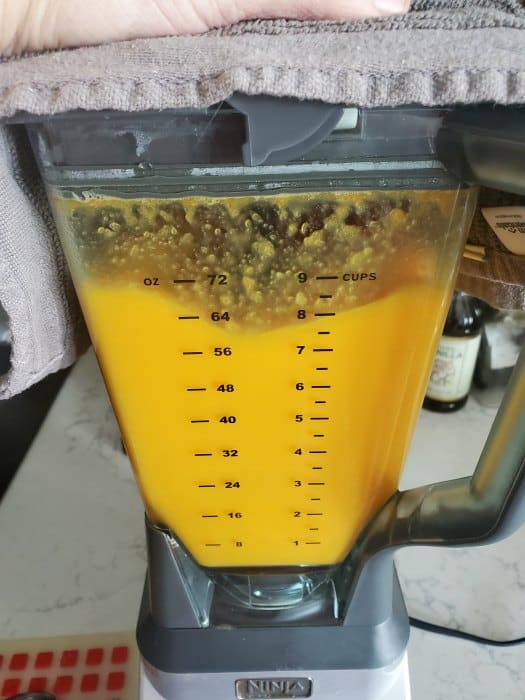 Step 3 - Blending the soup helps combine all of the flavors together and break down the fibers of the carrots, ginger and onions. Make sure to place a towel over the top of the blender. This will help absorb the hot steam that will be coming out of the blender.
Please do not overfill your blender. You will need to batch blend this soup. It took 3 batches for me to blend all of the soup. You want the blender to have room to work all of the liquid and not explode.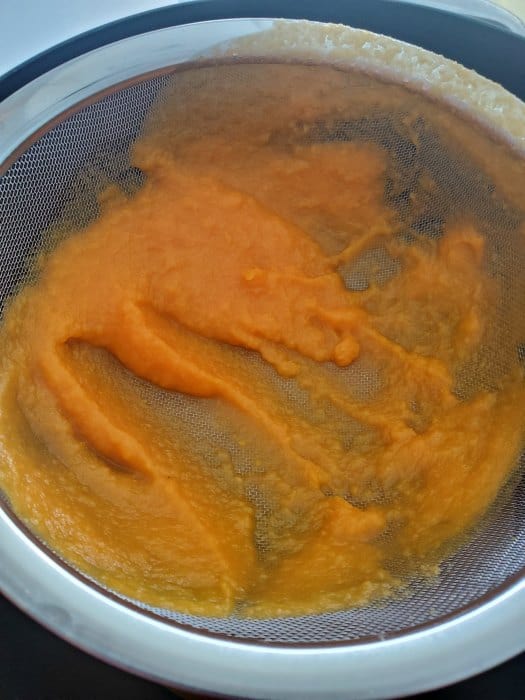 Step 4 - To get a really smooth Carrot Ginger Soup you will want to strain the soup after it has been blended. I don't have a chinois that Chef Rob mentions in the Facebook video so I used a fine mesh strainer.  Be prepared to be amazed at how much carrot, ginger, and onion pulp the strainer removes.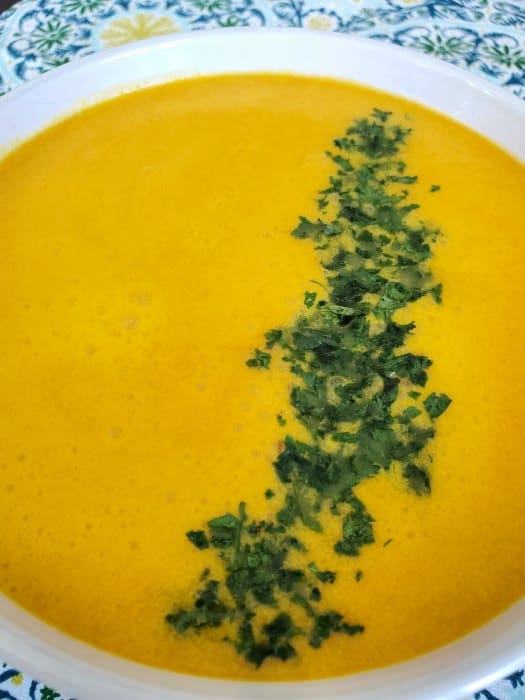 Freeze-dried Cilantro or fresh cilantro works great for topping this soup. It looks beautiful across the bright orange soup.
I stored the leftover soup in mason jars with these wide mouth lids. The soup will separate a bit as it sits in the refrigerator. All you need to do is shake the mason jar and it should combine back together and still taste amazing.
Recipe Tips
Make sure to check out Chef Rob's Facebook Video for great tips on making this recipe.
Prep all your veggies and ingredients ahead of time to make it easy to cook this great soup.
You want to add salt incrementally as you prepare the soup.
If you don't like spice you can skip adding Tabasco or Worcestershire Sauce to the recipe. We make this for my mother-in-law and grandmother and they DO NOT like spice so I leave it out.
If you want to keep this soup vegan/vegetarian make sure your Worcestershire Sauce was not made with anchovies!
Add cream to make this a creamy carrot soup.
Store leftovers in an airtight container in the refrigerator.
Freezing Instructions - Store in a freezer-safe container with a tight lid. Thaw the soup to room temperature before reheating.
Nutrition information including calories, protein, calcium, carbohydrates, fiber, vitamin c, potassium, cholesterol, sodium, trans fat, monounsaturated fat, saturated fat, polyunsaturated fat,  and more will vary depending on products used.
Printable instructions below.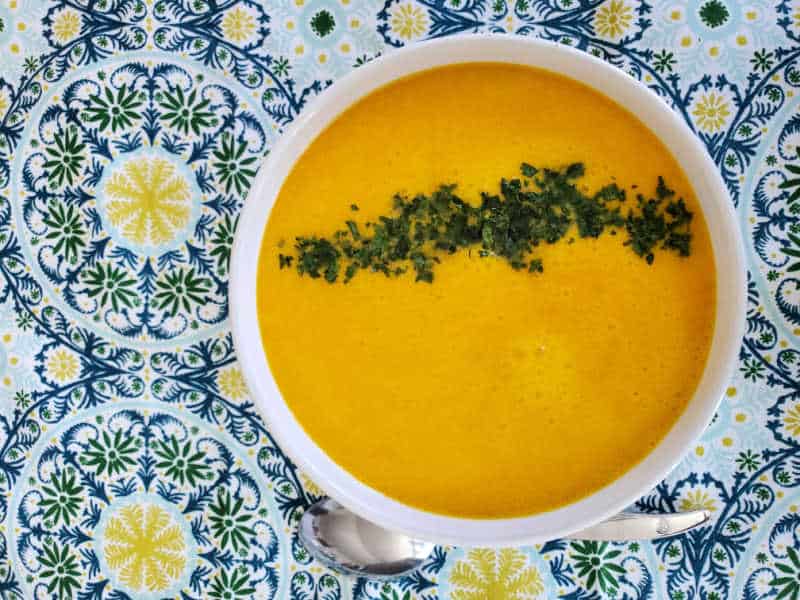 Yosemite Madera County Inspired Recipes
Plus check out all of the amazing Oakhurst Restaurants that have been inspiring some of our new recipes.
Don't miss all of the amazing wineries along the Madera Wine Trail 
This is one of our favorite side dishes to serve with ham.
Do you love recipes? Check out our copycat recipes, dessert recipes, and our CrockPot Recipes. We have a ton of hearty soup recipes!
Follow Tammilee Tips on MSN, Facebook, Instagram, Pinterest, and Twitter for all of our recipe posts.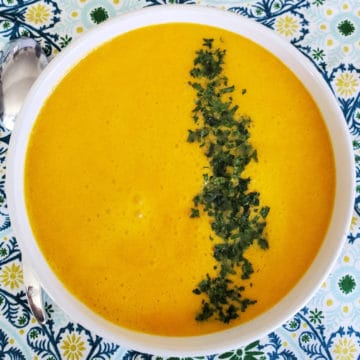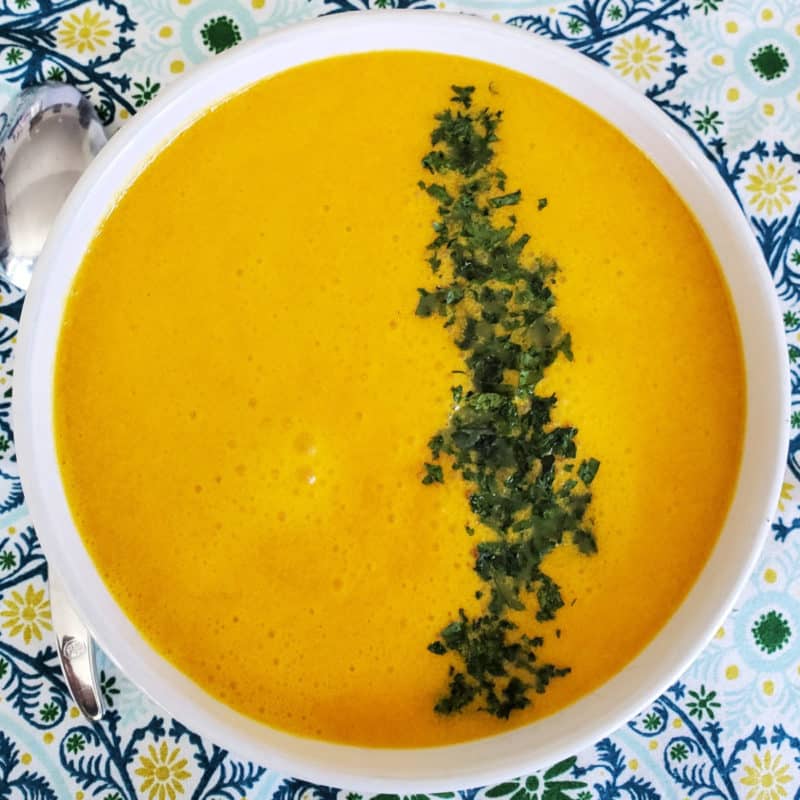 Carrot Ginger Soup Recipe
Easy Vegan Carrot Ginger Soup Recipe that only takes six ingredients to make.
Print
Rate
Instructions
Dice Veggies and prep liquids

Oil pan, sauté onions over medium heat. Stir so they don't burn

Add in ginger, let it bloom

Add in carrots, stir together

Simmer for 20-30 minutes until carrots are tender. You want a low simmer without a ton of bubbles.

Add water if you want to change the consistency

Add tabasco, worcestshire, and salt to taste
Nutrition
Nutrition Facts
Carrot Ginger Soup Recipe
Amount Per Serving
Calories 154
Calories from Fat 126
% Daily Value*
Fat 14g22%
Sodium 60mg3%
Potassium 330mg9%
Carbohydrates 8g3%
Protein 2g4%
Vitamin A 8492IU170%
Vitamin C 5mg6%
Calcium 42mg4%
Iron 2mg11%
* Percent Daily Values are based on a 2000 calorie diet.