These easy, three-ingredient Grape Jelly Meatballs are delicious! They sound weird, but these CrockPot meatballs are the perfect party appetizer.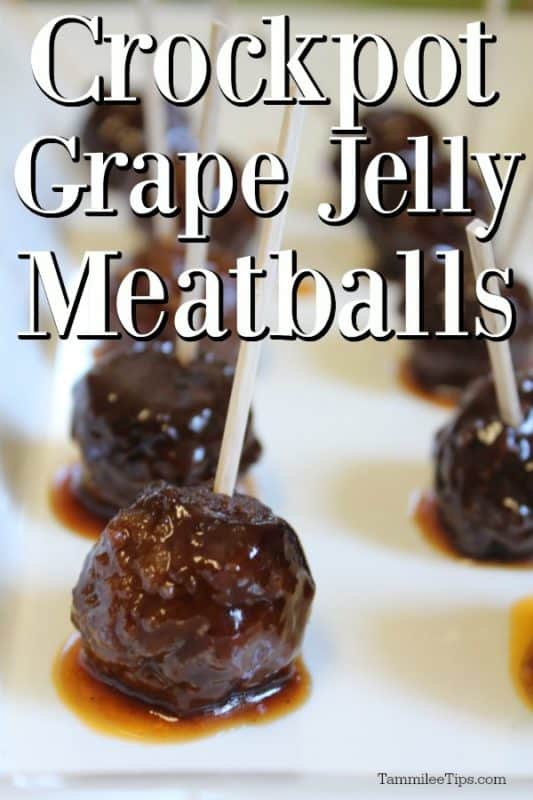 3 Ingredient Grape Jelly Meatballs
In honor of our wedding anniversary, I wanted to share the World's Best CrockPot Meatballs Recipe, aka Grape Jelly Meatballs Recipe, that we served at our wedding. We made a giant CrockPot of these meatballs; they were the first thing gone!
These barbecue sauce and grape jelly meatballs are so easy to make! An exceptional Safeway bakery employee gave us the recipe before our wedding. We were pricing a few items at Safeway and finalizing what we would make for the wedding.
She asked if we needed help, and we explained what we were working on. She excitedly told us we had to make this grape jelly meatball recipe. She promised they would be unique and everyone would love them. She was so right!
I didn't think grape jelly BBQ meatballs would be such a hit. Who would have thought meatballs with grape jelly and BBQ sauce would be amazing?
We self-catered the majority of our wedding food, which I wouldn't suggest, but doing so ensured that the food I wanted was at the wedding, which was great. I ran around with curlers in my hair, ensuring everything looked right, which I'm sure was a sight.
These meatballs in the slow cooker take about 10 seconds to set up, and then you just sit back and let the CrockPot do the work.
Do you ever wonder who came up with the idea of mixing grape jelly and barbecue sauce? Were they looking in their cupboards and thinking, maybe this will work?
I shared this recipe to honor our eleventh wedding anniversary. The past eleven years have flown by so quickly. I am so lucky/blessed to have an amazingly supportive husband who doesn't mind having his photo shared all over the blog.
John is one of my biggest supporters and pushes me daily to work harder and dream bigger.
I would not be the person or the blogger I am today without his help, support, guidance, and encouragement. No words would express how much my husband means to me and how much I can't wait for the next 50+ years.
I wish I had more photos of our wedding food. Somehow, our guests inhaled the food faster than we could photograph it.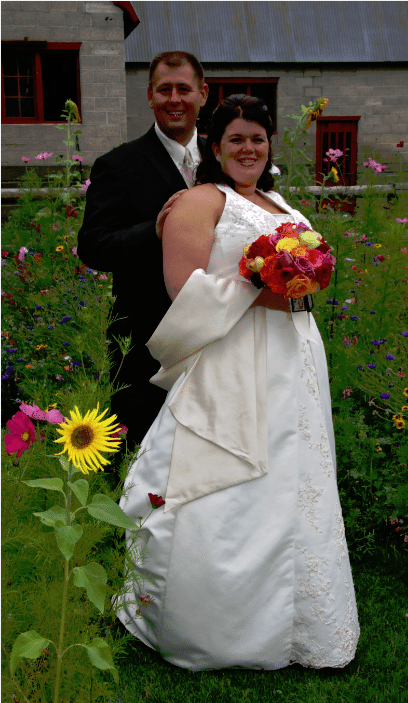 I told myself I could not walk around in my wedding dress taking pictures of food. I am sure John would have shaken his head, and our wedding guests would have teased me for years if I walked around taking photos of the food. I will admit to thinking about it, though.
We married before Pinterest was a big thing, which is hard to believe. I am pretty sure if Pinterest was around, then my wedding would have been even crazier. We were married in Leavenworth, Washington, and had our reception in a historic dairy barn.
Our wedding turned out better than I ever could have dreamed it would. We were surrounded by friends and families from around the country who helped us celebrate our fantastic day.
If you are planning a party, take advantage of these other excellent slow-cooker appetizer recipes that are super easy to make!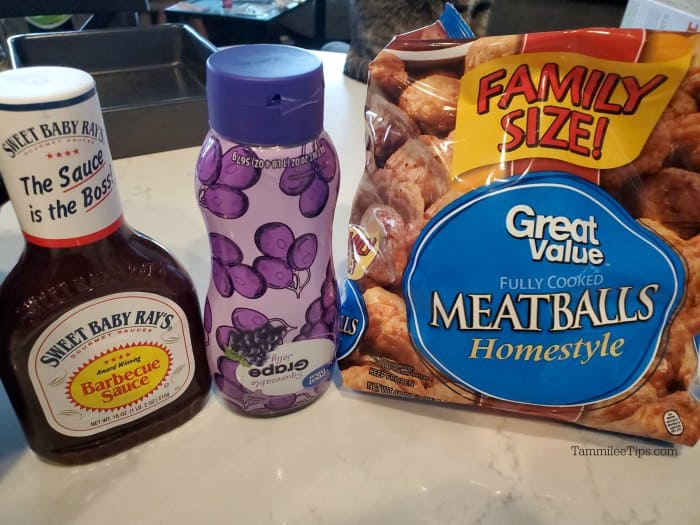 Ingredients
Here is a quick overview of the simple ingredients needed to make epic CrockPot Grape Jelly Meatballs! The printable recipe card at the bottom of the post includes specific measurements and step-by-step instructions.
Grape Jelly

Barbecue Sauce

Meatballs
Equipment Needed
CrockPot/Slow Cooker: We like this

6-quart crockpot

with a locking lid featuring a lid gasket that provides an extra seal for less mess when you're on the go, which is perfect for making these meatballs ahead of time and taking them to a football party or event.

Appetizer Forks/Toothpicks: You can choose what utensils you want to use depending on whether you serve these meatballs for a wedding or a football party. These

stainless steel appetizer forks

make meatballs look fancier. 

Serving Bowl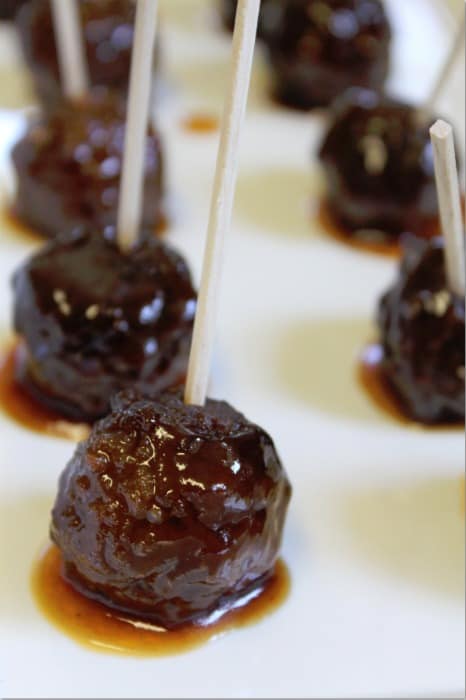 How to Make CrockPot Grape Jelly Meatballs
I've included complete instructions in the printable recipe card at the bottom of the post, but here's a quick version.
Place meatballs, grape jelly, and barbecue sauce into the CrockPot. Stir and combine.

Cook 
This recipe may be the easiest you make this year! Your CrockPot does all the work. You can cook the meatballs on high for a quick turnaround or low and slow if you want them to cook all day. It is up to you, depending on how much time you have.
Preparation and Storage
Make-Ahead: These CrockPot Grape Jelly Meatballs are make-ahead-friendly! They take at least two hours to cook on high, giving you ample time to work on other menu items.
Storage: Store leftovers in an airtight container in the refrigerator, and enjoy them within four days.
Freezing/How to Freeze: Transfer freezer-bound meatballs to an airtight, freezer-safe container or Ziploc bag, and enjoy them within three months.
How to Reheat: Reheat leftover portions using your stovetop, microwave, or CrockPot, depending on how many you need to serve. Thaw frozen Grape Jelly Meatballs overnight to ensure they reheat evenly.
Recipe Variations
Substitutions: 
You can make this grape jelly BBQ sauce meatball recipe with whatever variety of meatballs you enjoy. I have not tried them with chicken or turkey meatballs, but they should work great if that is the flavor you want.
We used generic frozen meatballs we picked up at the grocery store. You can use homemade meatballs, but check on them in the CrockPot to ensure they don't stick together with the low and slow cooking time.
You can find frozen meatballs at your local grocery store or large bags at Costco/Sam's Club if you want to make a large batch of these grape jelly barbecue meatballs.
I would stick with a classic barbecue sauce you know your family loves. Most of our recipes tend to use Sweet Baby Rays BBQ Sauce. You can also replace the barbecue sauce with ketchup or Heinz chili sauce; just be sure you don't use a spicy variety like sriracha or Thai chili unless you don't mind the heat!
You can use any brand of grape jelly! Replace the grape jelly with orange marmalade, apricot preserves, canned cranberry sauce, hot pepper jelly, or raspberry preserves.
Vegetarian + Vegan Option: Use plant-based meatballs to make this easy-peasy, three-ingredient meatball recipe vegetarian and vegan-friendly!
Gluten-Free: Check for a gluten-free label on each ingredient to ensure your CrockPot Grape Jelly Meatballs are safe for a gluten-free diet.
Alcohol-Free Option: We don't use alcohol in this recipe. You can add bourbon or another whiskey you enjoy for a boozy take, as we did in our CrockPot Bacon Bourbon Meatballs.
Smaller Serving Size + Larger Group/More Servings: The average serving of meatballs is 3-5 per person with regular-sized meatballs. It depends on how much food you are serving at the party. This recipe can easily be doubled or tripled with a large enough slow cooker, and you can make the recipe in multiple Crockpots that you can also use to keep the meatballs warm during the party.
Make it Spicy:
Sriracha chili sauce or Thai chili sauce is fantastic for spicy meatballs. You can also add a bit of sriracha, chili powder, or hot sauce for grape jelly BBQ meatballs with a kick.
You can also make these with grape jelly and chili sauce to make them more tangy. Try making them with chili sauce and cayenne pepper for an even spicier meatball.
Sugar-Free: The written recipe contains 3 grams of sugar per serving. Use sugar-free grape jelly and barbecue sauce to make it sugar-free.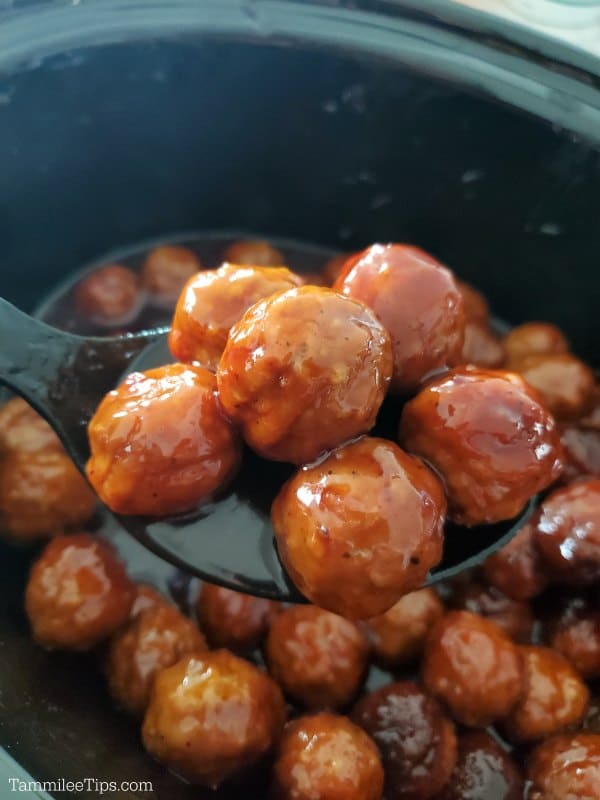 Tips for the Best CrockPot Grape Jelly Meatballs
You do not need to thaw the meatballs. We just pour them right out of the bag into the crockpot after taking them out of the freezer. If you use thawed meatballs, you will want to reduce the cooking time so they do not fall apart.

You should check that the frozen meatballs say that they are already fully cooked.
What to Serve with CrockPot Grape Jelly Meatballs
These three-ingredient CrockPot Grape Jelly Meatballs are flavorful, easy to make, and perfect for any occasion that needs a standout appetizer! Here are some menu pairing suggestions.
Sides: CrockPot Chipotle Honey Meatballs, CrockPot Swedish Meatballs, CrockPot Cranberry Barbecue Meatballs, CrockPot Spicy Mango Jerk Wings, CrockPot Mexican Chili over Fritos, CrockPot Honey Sriracha Barbecue Wings, CrockPot Beer-Braised Kielbasa
Main Dishes: CrockPot Chili Mac and Cheese, CrockPot Bacon Mac and Cheese, CrockPot Kielbasa and Sauerkraut, CrockPot Beer Chili, CrockPot Cuban Pork Sandwiches, Buffalo Chicken Wontons, CrockPot Bacon Ranch Chicken, CrockPot Buffalo Sloppy Joes
Desserts: Red Velvet Brownies, Chocolate Coconut 5 Layer Bars, CrockPot Mixed Berry Cobbler, Black Bean Brownies, Easy Homemade Banana Bread, Salty & Sweet Ruffles Marshmallow Treats, Peanut Butter Bacon Cookies, Molasses Cookies
Drinks: Coke Slushie, Kool-Aid Slushie, Red Robin Freckled Lemonade, Brazilian Lemonade, Sonic Ocean Water, CopyCat McDonald's Sweet Tea, Watermelon Agua Fresca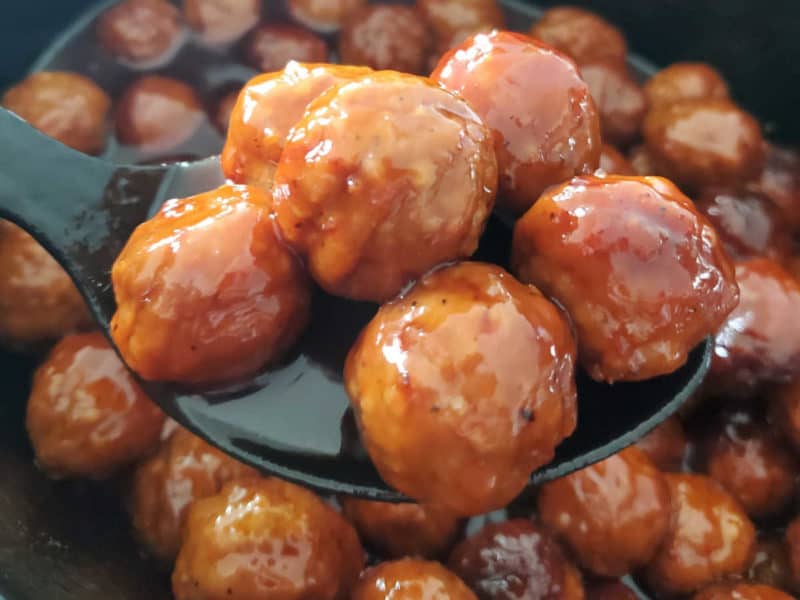 When to Serve
Lunch

Dinner

Potlucks

Family and Friends Gatherings

Game Day

Weddings
Work potlucks
Holiday Party
Great Recipe Collections
Ground Beef Crockpot Recipes - Easy Ground Beef Crockpot Recipes perfect for every occasion! From family dinners to potlucks these ground beef recipes are perfect!
Slow Cooker Appetizer Recipes - some of our favorite crock pot appetizer recipes, perfect for game day!
5 ingredient or less dessert recipes - All the recipes in this collection are made with five or fewer ingredients, ensuring you're never more than a few steps and ingredients away from sweet treat bliss.
Vegetarian Crockpot Recipes - Easy vegetarian slow cooker recipes including appetizers, main dishes, desserts and more.
Crockpot Soup Recipes - Tons of epic easy to make soups that are the perfect comfort food.
Game Day Appetizers - A huge collection of amazing appetizers perfect for football parties. We love these easy appetizers.
Do you love recipes? Check out our copycat recipes, dessert recipes, and our CrockPot Recipes.
Follow Tammilee Tips on MSN, Facebook, Instagram, and Pinterest for our recipe posts.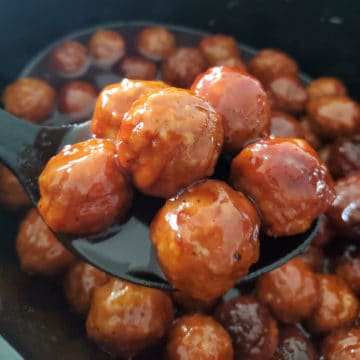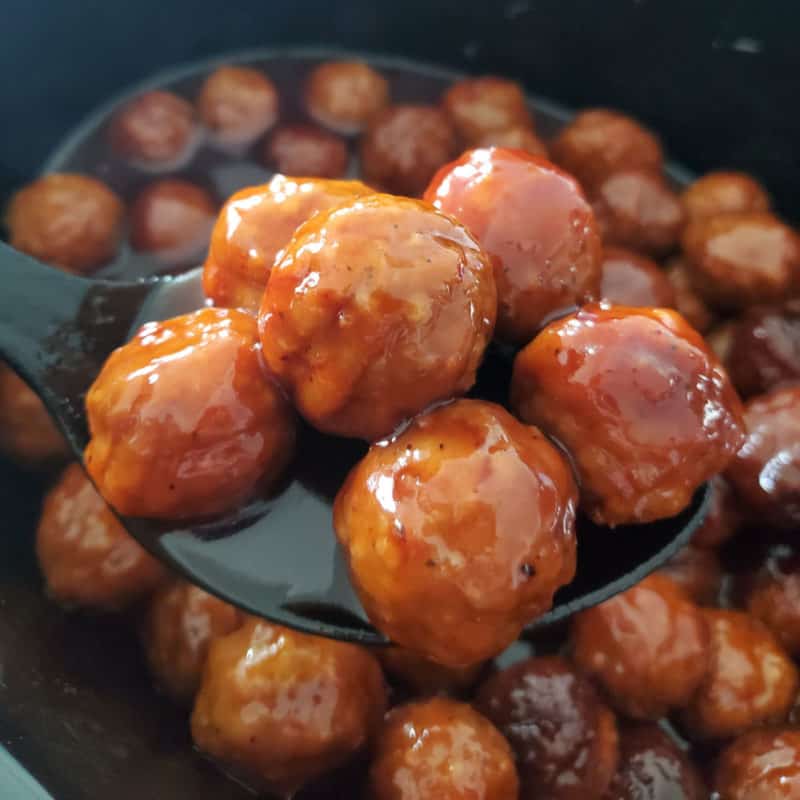 Grape Jelly Meatballs
Worlds Best Meatballs aka Grape Jelly Meatballs that are super easy to make in the slow cooker crockpot!
Print
Rate
Instructions
Place meatballs, grape jelly and barbecue sauce into the crock pot, stir and combine

Cook on low for 6-8 hours, high for 2-2 ½ hours
Notes
Nutrition Disclaimer: All information presented on this site is intended for informational purposes only.
Nutrition
Nutrition Facts
Grape Jelly Meatballs
Amount Per Serving
Calories 57
Calories from Fat 27
% Daily Value*
Fat 3g5%
Cholesterol 10mg3%
Sodium 111mg5%
Potassium 66mg2%
Carbohydrates 4g1%
Protein 2g4%
Vitamin A 25IU1%
Vitamin C 0.2mg0%
Calcium 5mg1%
Iron 0.2mg1%
* Percent Daily Values are based on a 2000 calorie diet.
Recipe originally shared on September 10, 2013. Updated October 2020.