When it comes to Thanksgiving I am always worried about oven space, counter space and getting everything done on time. A few years ago I started using our crockpots to make Thanksgiving prep so much easier. To help you plan your day today we are sharing our list of favorite Thanksgiving CrockPot Recipes!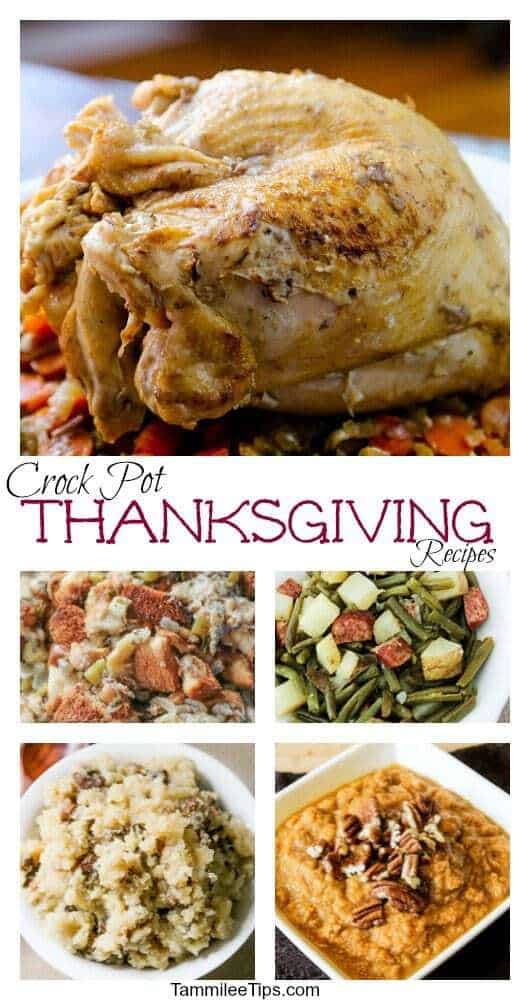 Thanksgiving Crock Pot Recipes
Our goal is to save you time, stress, and hopefully get you more time spent with your family! As much fun as it is to be in the kitchen during the holidays, it is also fun knowing that everything will be done at the right time and you are not going to be running out of oven space.
We have had a couple of holidays when relatives side dishes accidentally did not get warmed up in the oven and we heard about it.
Let us know if you need any other slow cooker recipes for the holidays!
We hope these recipes help you have a truly amazing Thanksgiving and holidays with your family!
Plus I found these free thanksgiving printables to help keep everyone entertained so you can relax even more!
Crockpot Thanksgiving Main Dishes
Crockpot Thanksgiving Sides
Crock Pot Bacon Mac and Cheese
Crock Pot Sweet potato casserole
Crock Pot Candied Sweet Potatoes
Crock Pot Garlic Herb Potatoes 
Crock Pot Green bean casserole
Crock Pot Garlic Mashed Potatoes
Crock Pot apples and sweet potatoes 
Crockpot Loaded Mashed Cauliflower 
Crockpot Thanksgiving Desserts
Crockpot Apple Spice Dump Cake 
Crockpot Thanksgiving Drinks/Cocktails
Crock Pot Cherry Pie Moonshine
Do you love recipes? Check out our copy cat recipes, dessert recipes, and our Crock Pot Recipes.